Kitchen Collection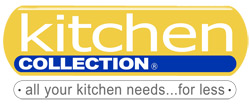 Phone:

623-465-7563

Location:

820 | get directions »

Hours:

Sun 10am-7pm Mon –Sat 10am-8pm

All the perfect kitchen tools without experiencing the sticker-shock of those glitzy kitchen stores! Kitchen Collection has name brands like KitchenAid, Krups, Cuisinart, Wilton and Progressive at everyday value prices. For extra savings be sure to check out the factory overstocks, closeouts and factory renewed small appliances.
Sales and Promotions
Gadget of the Month   
March 1 - March 31, 2014
Charles Viancin  Daisy 9" Lid (Assorted Colors) Reg. Price: $11.99; SALE: $9.99
Charles Viancin  Daisy 11" Lid (Assorted Colors) Reg. Price: $14.99; SALE: $12.99
Purchase a 9" or 11" Lid & Get A Charles Viancin Daisy Bottle Stopper for a penny!
Managers Special
March 1 - March 31, 2014 
Betty Crocker Oven Liner   Reg. Price: $8.99, SALE: $6.97

Kitchen Aid Gift with Purchase of thru 3/31/14 (Refurbished Items not included in promotion)                                     
Purchase a 6qt Stand Mixer and receive a FREE Ice Cream attachment by Mail!  $79.99 Value!
Pro 600 6qt Stand Mixer - red   Reg. Price: $569.99; Our Price: $449.99
Pro 600 6qt Stand Mixer - pearl metallic  Reg. Price: $569.99; Our Price: $449.99
Kitchen Aid Gift with Purchase thru 3/31/14 (Refurbished Items not included in promotion)                                                                           
Purchase a 5qt Stand Mixer and receive $30 cash back via Mail-in Rebate! 
Artisan 5qt Mixer - black   Reg. Price:$409.99; Our Price:$349.99

Hamilton Beach Sale (3/4-5/5/14)
Your Choice $39.97
12c Brewstation w/removable reservoir   Reg. Price: $49.99; SALE: $39.97
20c Digital Rice Cooker - black w/SS  Reg. Price: $49.99; SALE: $39.97
Smart Smoothie Blender   Reg. Price: $49.99; SALE: $39.97
Your Choice $49.97
Scoop System Coffee Maker    Reg. Price:$59.99; SALE:  $49.97
Big Mouth 12c/4c Food Processor  Reg. Price: $59.99; SALE: $49.97
Big Mouth Juicer    Reg. Price:$59.99; SALE: $49.97