Health Day May 24 Mobile Onsite Mammography
Now through May 24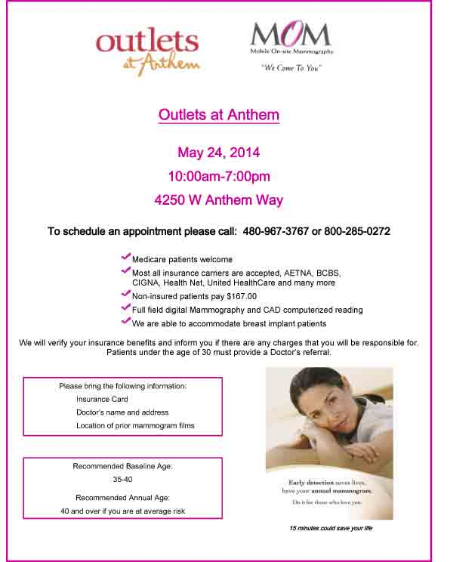 Get your appointment booked now for your mammogram in the Mobile On-site Mammography vehicle that will be at Outlets at Anthem on May 24, 2014 from 10am to 7pm.
Call to schedule an appointment at 480-967-3767 or 800-285-0272.
Medicare patients welcome. Most all insurance carriers are accepted. Non-insured patients pay $167.00.
Full field digital Mammography and CAD computerized reading. MOM is able to accommodate breast implant patients.
Health Day May 24 Prostate Onsite Project
Now through May 24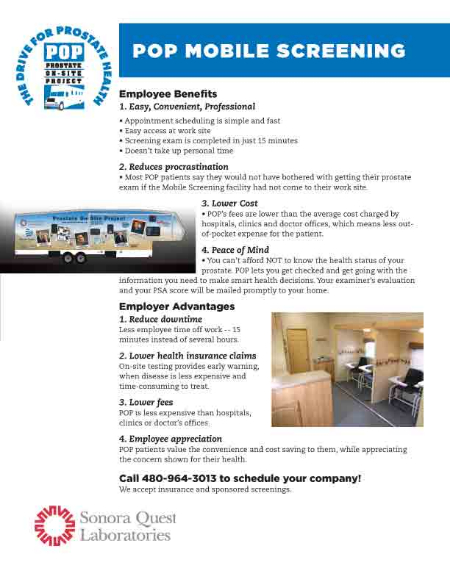 Book your appointment for a prostate cancer screening happening onsite at Outlets at Anthem on May 24 from 10am until 4pm.
Call: 480-964-3013 and book your appointment now!
Insurance accepted is BlueCrossBlueShield, Humana, Health Net, United Healthcare. Specialist Co-pay fees apply. If no insurance - cost is $72, due at the time of service.
15 minutes could save your life!
Easter Sidewalk Sale
Friday thru Sunday, April 18th -20th

Hop in for great deals all weekend long. Sidewalk sale Friday, April 18th - Sunday, April 20th. Don't miss Daisy the Bunny for your sping photo hopportunities!
Daisy the Bunny on site
Saturday, April 19. 1:30-4:30pm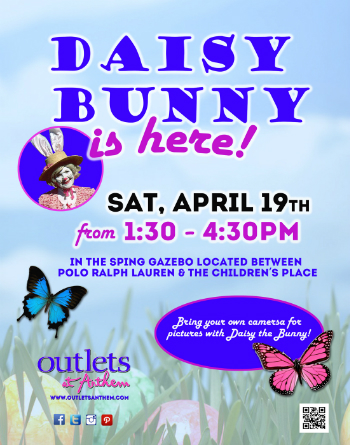 Bring your little ones and your camera to the Outlets at Anthem on Saturday, April 19th from 1:30-4:30pm. Meet Daisy the Bunny at our Spring Gazebo for an activity book. The Spring Gazebo is located between The Children's Place and Polo Ralph Lauren. Make sure to bring your camera!
The Creation Gift With Purchase
May 1, 2014 through May 16, 2014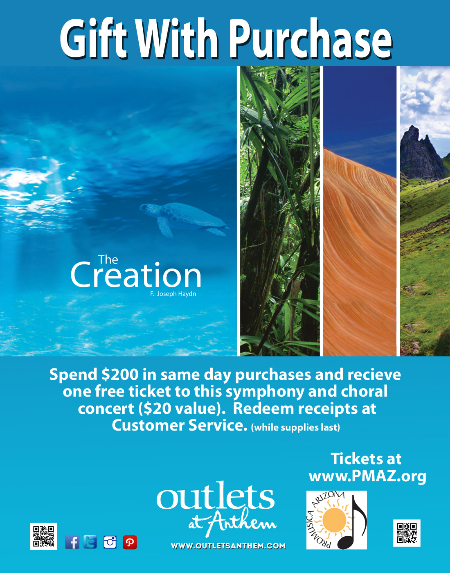 Spend $200 in same day purchases and receive one free ticket to "The Creation".
"The Creation" is a symphonic and choir piece written by Joseph Haydn in the late 1700. It is considered by many to be his masterpiece celebrating the creation of the world. You don't want to miss this concert which will be playing May 17 at Boulder Creek High School in Anthem at 7:30pm and May 18 at Camelback Bible Church at 4pm.
See Customer Service for more details.
Senior Discount Days
Every Tuesday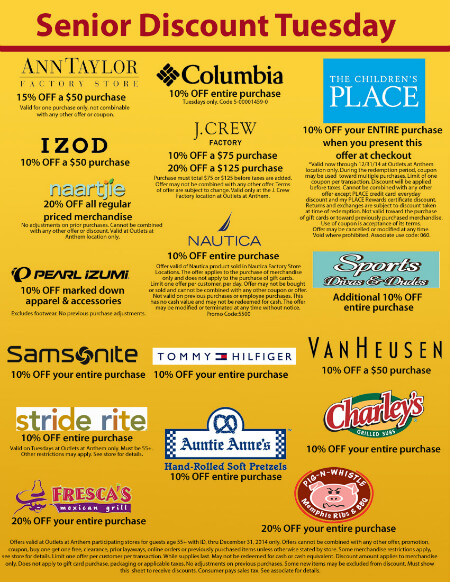 Senior Discount Tuesdays!
Seasonal visitors always welcome.
Visit Customer Service for discount details and ask about a FREE VIP savings card.
FREE Kids Play Activity
First Wednesday
Outlets at Anthem invites you to bring your little ones and join us for a Free Interactive Kid's Program each month at 10:00am at Kids Play.
KIDS PLAY IS THE FIRST WEDNESDAY EACH MONTH
Activities are geared for younger aged children and require parental participation. Kids enjoy singing, dancing with Mother Goose and a special snack provided by the Food Court.