Elves on the Run
November 24 - December 7, 2015
Pick up an enter to win form at Customer Service and search for the Elves on the Run. They can be in store windows, inside a store or outside on the property. Find at least 5 elves and jot down their number and location before returning the form to the Customer Service desk. Each week for 3 weeks, one lucky winner with the correct location, will receive a $200 Outlets at Anthem gift card. (Hint, Elves run around everywhere, so keep on looking!)

RULES:
One entry per week
Must be 18 or older
Complete rules available at Customer Service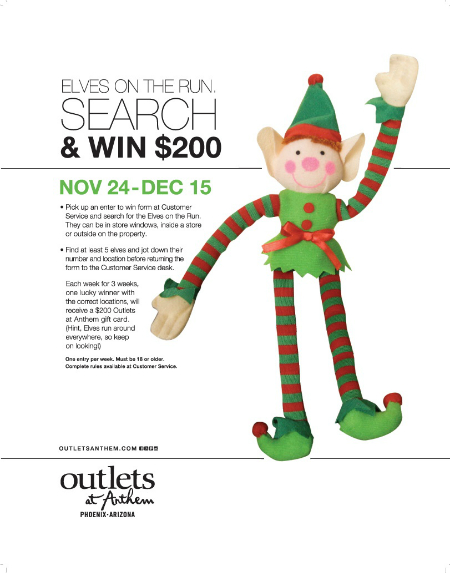 Santa's House
November 20 - December 24, 2015
Come visit Santa at Outlets at Anthem in his two room cottage sponsored by Honor Health for photos and fun!
If you don't want to wait in line - you can set your personal reservation to meet with him and share your holiday wishes. Click here to set your appointment.
Santa House Hours
November 20th–December 13th
Monday-Saturday
11am-3pm & 4pm-8pm
Sunday
12pm-3pm & 4pm-7pm
December 11th-23rd
Monday-Sunday
10am-1pm & 2pm-5pm & 6pm-9pm
Christmas Eve, December 24th
10am-2pm & 3pm-6pm
Santa Paws, December 1st & 2nd
Monday-Tuesday
5pm-7pm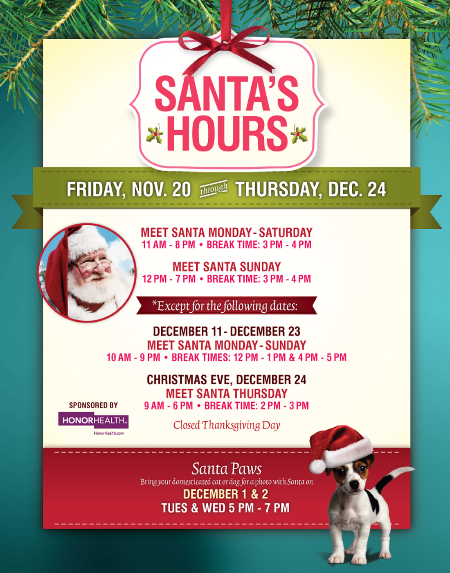 Enter To Win 4 Concert Tickets
From November 2 through November 30
Outlets at Anthem is partnering with ProMusica for an Enter-to-Win a family 4 pack of tickets valued at $80 to a traditional Christmas concert called "Twas the Night Before Christmas." Fill out your name and information and drop your name in the enter-to-win box at the Customer Service desk from November 2 through November 30. The drawing will be held on December 1.
Concerts will be:
Friday, December 4 at 7:30pm at American Lutheran Church of Sun City
Saturday, December 5 at 7:30pm at Crosswinds Presbyterian Church
Sunday, December 6 at 3pm at Cross of Christ Lutheran Church
Salvation Army Angel Tree
November 20th thru December 21st
The Salvation Army Angel Tree has become a tradition at Outlets at Anthem. From November 13th thru December 21st two trees will be on display: one in the Breezeway between Gap and Banana Republic and one at Customer Service. Each tree will hold Angel tags with requests from real kids. Come in and fulfill a Christmas wish!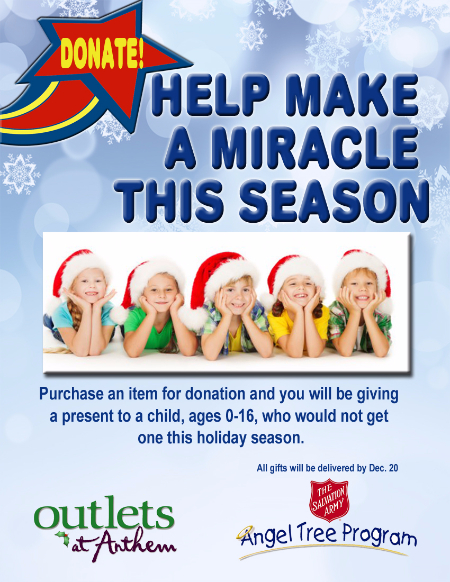 After Thanksgiving Sale
Friday, Nov 27-Sunday, Nov.29
From Black Friday, Nov. 28th through Sunday, Nov. 29th Outlets at Anthem's already discounted stores will have even lower prices with doorbusters and additional savings all weekend long!
Breakfast with Santa
Saturday, December 5, 2015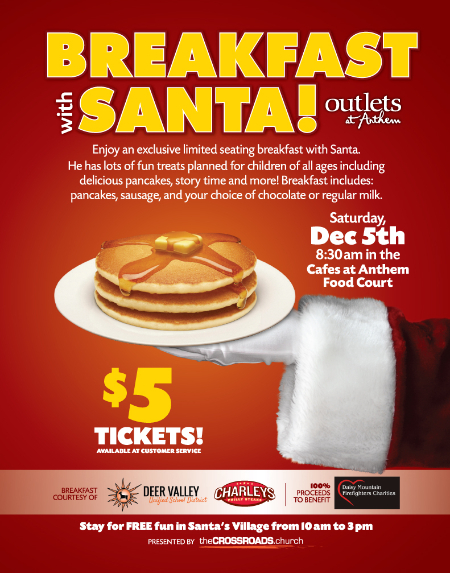 Enjoy Breakfast with Santa, Saturday, December 5, 2015 from 8:30am to 9:30am. Tickets are on sale until December 4th at Customer Service for only $5 and all the proceeds go to The Daisy Mountain Firefighters Charities. Santa will be on hand to greet each child and have story time before the Santa House opens for photos with Santa. You can make a free Christmas ornament with the library, too!
Afterwards, stay for FREE fun in Santa's Village from 10am to 3pm presented by The Crossroads Church. You will be able to decorate a gingerbread house, make an ornament, hear a Christmas story, get your face painted or a glitter tattoo, get your gifts wrapped and enjoy some festive entertainment! You can also donate a toy for a less fortunate child.
It's going to be a great day in Santa's Village!
A day in Santa's Village
Saturday, Dec. 5th
After Breakfast with Santa on December 5th, stay and play in Santa's Village from 10am-3pm! Crossroads church will re-create our internet interactive site Santa's Village, complete with a mail room for kids of all ages to mail their letters to Santa. You can takepictures in a selfie photo booth, join in the reading circles, sing-a-long to the Christmas carols, make some ornaments for your tree and help make gingerbread house. They will also help out with wrapping presents!
Santa's interactive Village
November 20th - January 1st, 2015
Click on the link for an interactive Santa Village with fun and activities!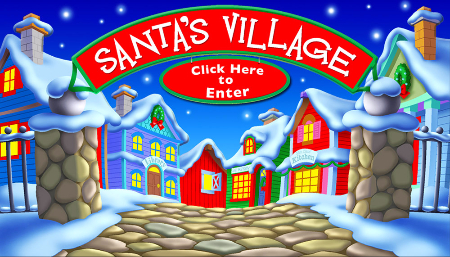 Tallest Christmas Tree in the Nation
Holiday Season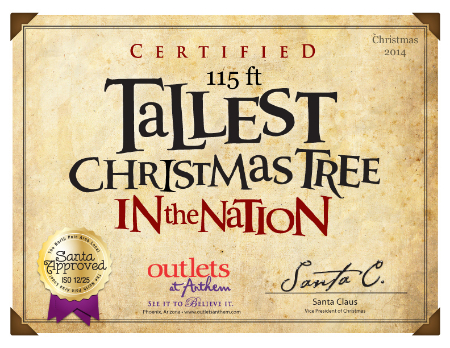 Spanning 15 feet longer than an NBA basketball court and approximately the length
of two and a half city blocks, the tree will be transported nearly 750 miles from Northern
California to the Outlets at Anthem on a 75-foot stretch trailer. In its place, at least 12 tree saplings will be replanted in the vicinity.
The tree arrives at Outlets at Anthem on Oct. 20 at 6 a.m. A team of 14 will spend more than eight hours a day for two weeks on mobile cranes to shape and decorate the 27-foot-wide tree which will weigh 16 tons when fully adorned with lights and ornaments. A total of 180 strands of LED lights stretching three miles and more than 6,000 ornaments will decorate the tree, along with bows and a three-foot-tall copper star at the top. Decorating will be completed around Nov. 9. The 13th annual Christmas tree lighting spectacular featuring national artists and fun for the entire family is scheduled for Saturday, Nov. 14, 2015.
Caroling by the Christmas Tree
Throughout December
Come and here local singers and school chorus' sing your favorite Christmas songs by the Nation's Tallest Christmas Tree all through December!
December 4 Callie Young 6-7 pm
December 5 Mikaela's Dance Magic 5-6 pm
December 7 Cactus High School 12:15-1 pm
December 8 Gavilan Peak Elementary 4-5 pm
December 12 Canyon Springs 3-4 pm
Callie Young 5-6 pm
December 14 West Wing 11-11:30 am
Rhapsody School of Music 2:00-?
December 16 Cub Scout Pack 432 6-7 pm
December 18 Anthem Prep 3-4 pm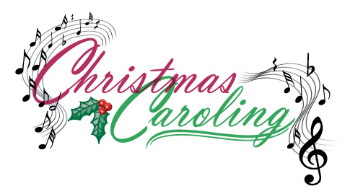 Outlets at Anthem Gift Cards
Gift Cards anytime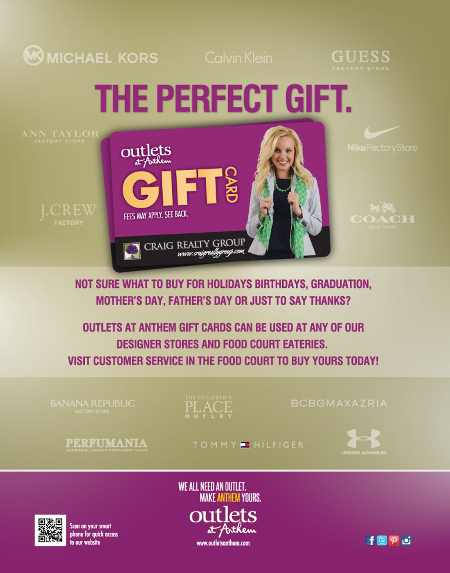 Take the guess work out of your gift shopping. Stop by Customer Service in the Food Court and pick up the gift that is just right for everyone! An Outlets at Anthem gift card! Get one in increments of 20 to 500 dollars and make someones day!
Senior Discount Days
Every Tuesday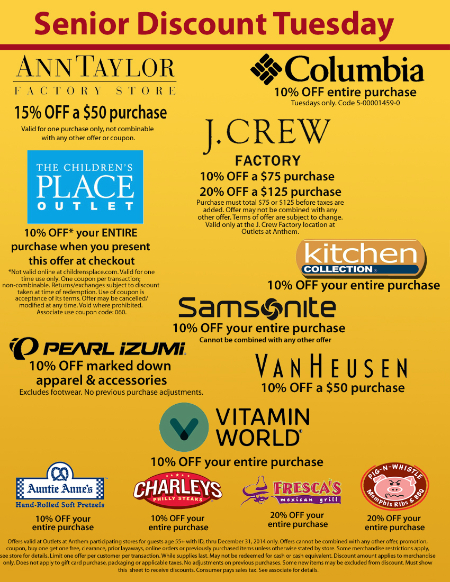 Senior Discount Tuesdays!
Seasonal visitors always welcome.
Visit Customer Service for discount details and ask about a FREE VIP savings card.