Cardiac Heart Screenings
August 9th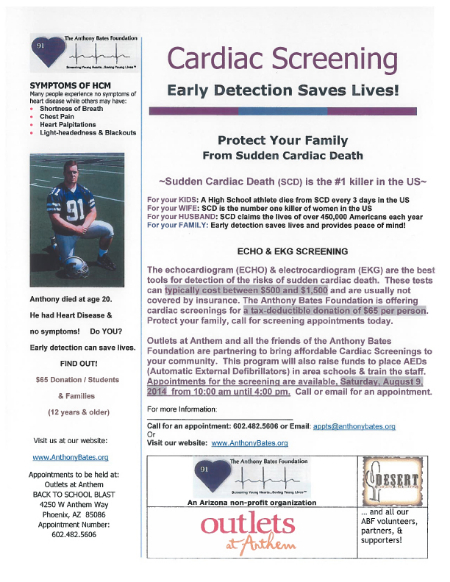 Outlets at Anthem and the Anthony Bates Foundation will host a cardiac screening event on August 9th from 10am -4pm in Suite 410. Click here www.anthonybates.org to set up your appointment! Protect your family from sudden cardiac death. Early detection saves lives.
Buy one Donate One Candy Bars
August 1-31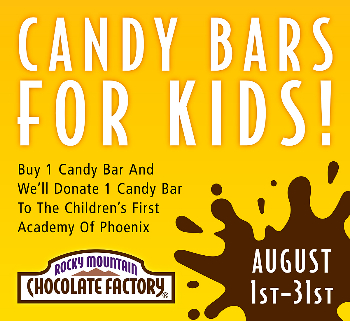 Buy one candy bar and Rocky Mountain Chocolate Factory will donate one to The Children's first Academy of Phoenix.
Veteran's Clothing Drive
Now through November 11th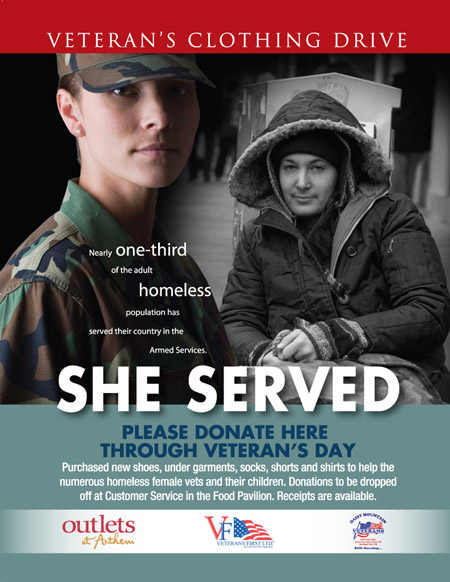 Please donate new shoes, undergarments, socks, shorts and shirts to help the many homeless female veterans and their children. Donations may be dropped off at Customer Service in the Food Court.
Back to School Tools Donation
July thru August
Mix 96.9, Learner & Rowe along with Outlets at Anthem and CVS will team up for the fifth annual Back to School Tools program benefitting Children First Academy campuses in Tempe and Phoenix.
Children First Academy is dedicated to engaging students as critical thinkers, problem solvers and active citizens. 100 percent of the students and their families are at the poverty line and a vast majority of the students are homeless. There are approximately 300 students, grades K-8, being educated on its grounds. The school provides stability and hope for kids amid a chaotic world of homelessness and hopelessness; many of the children live in motels, shelters and many live doubled up. Children First Academy works to provide the necessities, care and attention that so many homeless and low socioeconomic children lack.
Fudge for Troops campaign
The Month of July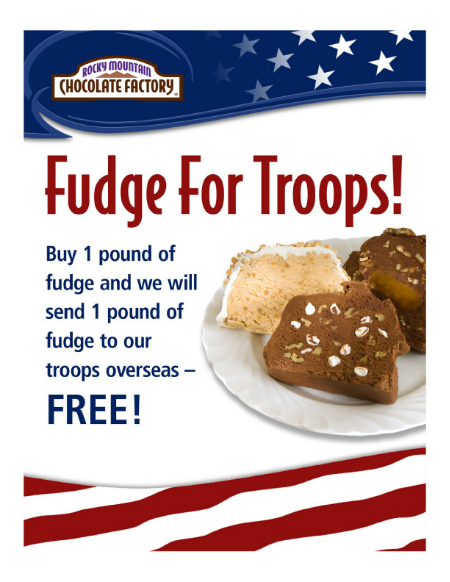 For every pound of fudge Rocky Mountain Chocolate Factory sells this month, they are matching that and sending the fudge to troops overseas. They are sending it through "Packages from Home", a local group in Phoenix that sends care packages to troops.
Like us on Facebook
Like us on Facebook!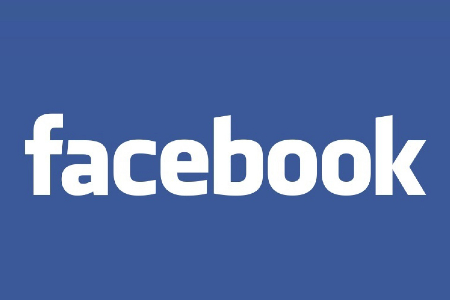 We're excited to provide frequent updates on the hottest fashion trends, store offers and fun events on property on our Facebook page. Stay in the loop by "liking" us at https://www.facebook.com/outletsatanthem and be in the know on all these great savings opportunities as soon as they are announced!
You can share your thoughts, pictures and ideas of the mall events and sales and stay connected!
Follow us on Pinterest!
Follow us on Pinterest!

We're excited to provide frequent updates on the hottest fashion trends, fun on-site activities, cute pictures and fun ideas to try on our Pinterest boards. Stay in the loop by following us at http://www.pinterest.com/OutletsatAnthem/
You can share your thoughts, pictures and ideas of the mall events and sales and stay connected!
Kids Play- We've Moved!
First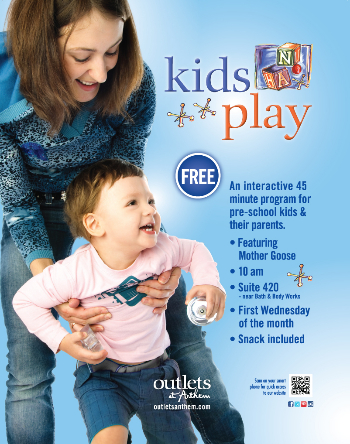 Kids Play is the first Wednesday of every month! 10am-11am, Suite 420.
Bring the kids to Outlets at Anthem for FREE interactive play hour with Mother Goose where we will tell stories and sing songs! There are prizes given out and a delicious snack. Parent participation is required.
Trackless Train Summer Hours
Summer Hours
Our Trackless Train will be operating Saturday and Sunday only during the summer months.
Please note that when the weather is above 110 degrees we cannot offer this service. Call ahead to Customer Service at 623-465-9500 to find out details.
Senior Discount Days
Every Tuesday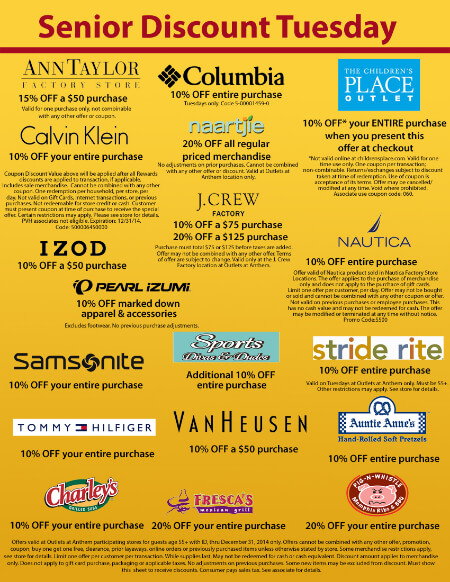 Senior Discount Tuesdays!
Seasonal visitors always welcome.
Visit Customer Service for discount details and ask about a FREE VIP savings card.