Labor Day Sidewalk sale
Friday thru Monday, September 4th - 7th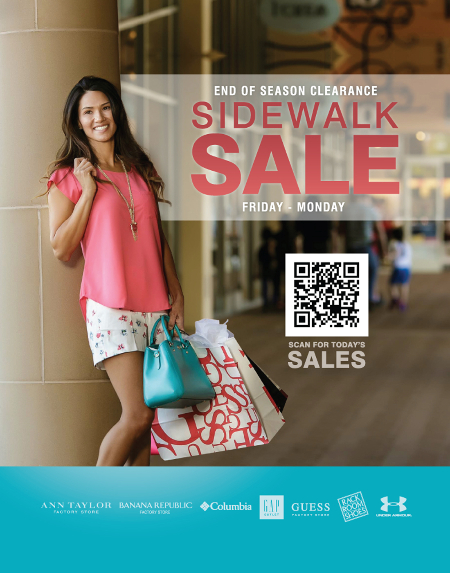 Stop in during your travels on the long weekend and save! We will have our end of season sidewalk sale on Friday, September 4th thru 7th.
$1 After School Snacks!
August thru September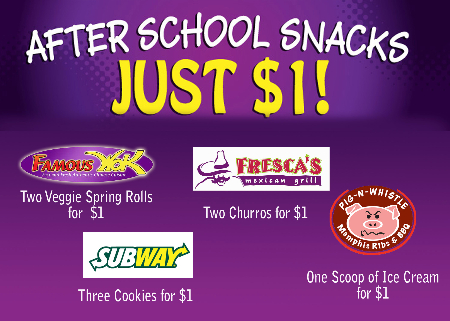 After school snacks for just a buck! Stop in at any of these great eateries for great after school snack deals.
Famous Wok- Two Veggie Spring Rolls for $1
Fresca's- Two Churros for $1
Pig n Whistle- One Scoop of Ice Cream $1
Subway- Three Cookies for $1
11th Annual Shopping Extravaganza
October 3, 2015 from 9am to 4pm
Buy a ticket and enjoy the 11th annual Shopping Extravaganza event on Saturday, Oct. 3, 2015. This limited-admission charity fundraising event features one-day-only offers, a special shopper lunch, wine, dessert bar and opportunities to win several fantastic prizes, including more than $30,000 worth of gift cards from Outlets at Anthem's participating retailers. The proceeds of this event benefits 25 Phoenix based charitable and non-profit organizations. Last year's event raised more than $45,000 for well-deserving organizations in the Valley.
Tickets sold in advance only! Visit Customer Service to purchase or click here to order online:
2015 Charities:
1. American Cancer Society
2. American Liver Foundation
3. Anthem Pets Rescue
4. AZ Friends of Foster Children Foundation
5. AZ Literacy and Learning Center
6. Believe in Anthem, AZ
7. Community Health Charities
8. Daisy Mountain Firefighters Charities
9. Daisy Mountain Veterans
10. Deer Valley Education Foundation
11. Girls Rule
12. Global Family Philanthropy
13. Homes for Heroes
14. Musical Theatre of Anthem
15. O'Connor Academy Booster Club
16. PeppedUp!
17. Phoenix Youth Ballet Company
18. ProMusica
19. Spotlight Youth Theatre
20. Standing Proud Pit Bull Rescue
21. Starlight Community Theater
22. Team W.I.S.H.
23. UCP of Central AZ
24. United Blood Services AZ
25. Worldly Kids
Kids Play
First Wednesday of every month!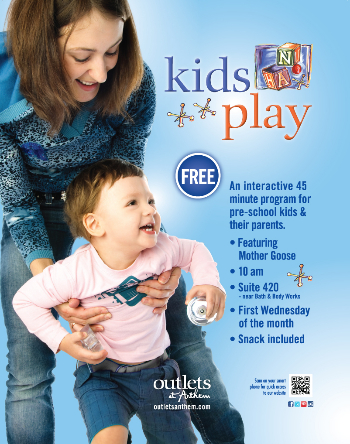 Kids Play is the first Wednesday of every month, 10am-11am, Suite 420.
Bring the kids to Outlets at Anthem for FREE interactive play hour with Mother Goose where we will tell stories and sing songs! There are prizes given out and a delicious snack. Parent participation is required.
Trackless Train Hours
Trackless Train Every Weekend
Our Trackless Train will be operating 12-6pm every Saturday and Sunday! Be sure to stop by Customer Service for your FREE VIP Savings card and any questions you may have.
Follow us on Pinterest!
Follow us on Pinterest!

We're excited to provide frequent updates on the hottest fashion trends, fun on-site activities, cute pictures and fun ideas to try on our Pinterest boards. Stay in the loop by following us at http://www.pinterest.com/OutletsatAnthem/
You can share your thoughts, pictures and ideas of the mall events and sales and stay connected!
Like us on Facebook
Like us on Facebook!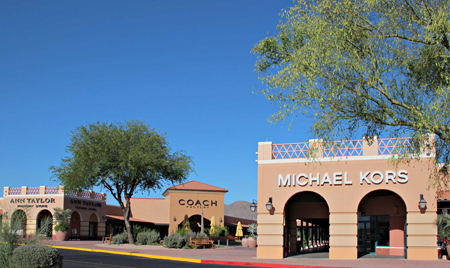 We're excited to provide frequent updates on the hottest fashion trends, store offers and fun events on property on our Facebook page. Stay in the loop by "liking" us at https://www.facebook.com/outletsatanthem and be in the know on all these great savings opportunities as soon as they are announced!
You can share your thoughts, pictures and ideas of the mall events and sales and stay connected!
Outlets at Anthem Gift Cards
Gift Cards anytime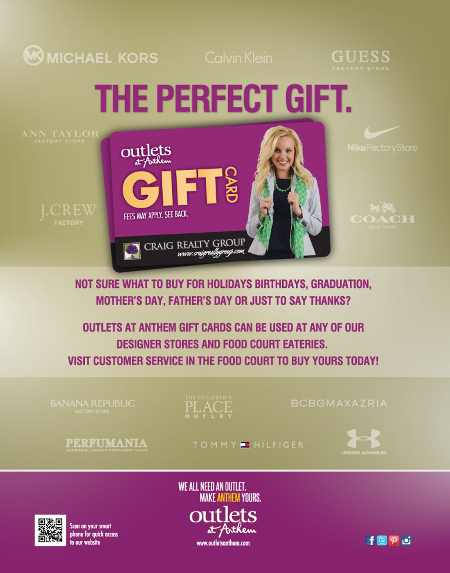 Take the guess work out of your gift shopping. Stop by Customer Service in the Food Court and pick up the gift that is just right for everyone! An Outlets at Anthem gift card! Get one in increments of 20 to 500 dollars and make someones day!
Friday Family Fun Night
Friday, November 13 from 5pm to 8pm
At the foot of the Tallest Christmas Tree in the Nation, enjoy a FREE Family Fun Night. Free activities, songs, meet and greet and more. Details to come!
Tree Lighting Ceremony
Saturday, November 14 from 6pm to 8pm
SAVE THE DATE: Saturday, November 14, 2015 is when the Tallest Christmas Tree in the Nation will be lit. There will be FREE concerts and prize giveaways. Stay tuned for more details on who will be here!
Senior Discount Days
Every Tuesday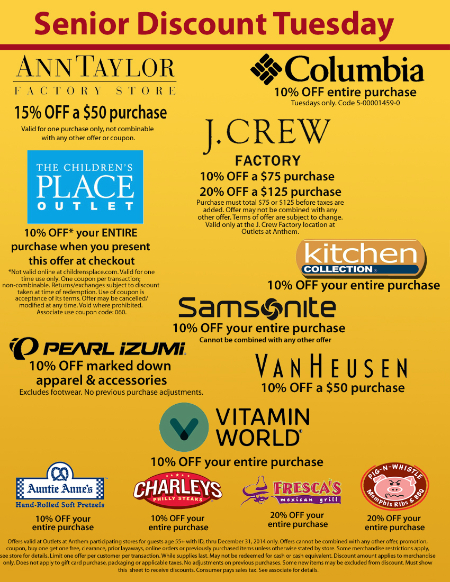 Senior Discount Tuesdays!
Seasonal visitors always welcome.
Visit Customer Service for discount details and ask about a FREE VIP savings card.
Too Hot for your Dog?
Summer months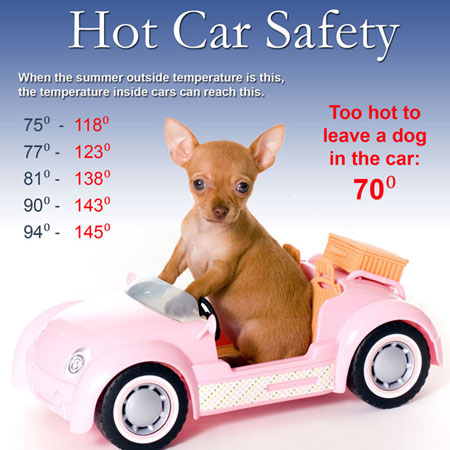 Cars warm up faster than you realize in the Arizona climate. Please be aware that leaving your dog in a hot car is unsafe.
Delicious Dollar Deals
Food Court Eateries
Fresca's Mexican Grill
Two churros for $1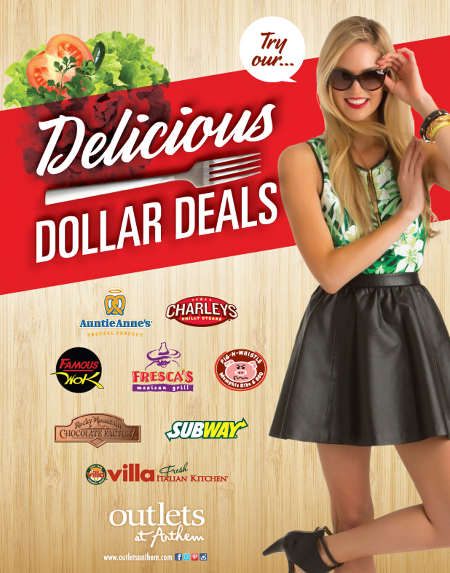 Visit our Food Pavilion and try these great dollar deals!
Famous Wok
Two veggie spring rolls or
a bowl of egg drop soup with fried noodles for $1
Pig-n-Whistle BBQ
One scoop of ice cream for $1
Charley's Philly Steaks
Upgrade any regular sandwich to a large for $1
Villa Pizza
1 Garlic roll or 1 Cookie or 1 Wing for $1
Subway
3 Cookies for $1
Auntie Anne's Pretzels
Dipping sauces for .69
Rocky Mountain Chocolate Factory
Caramel sticks for .79