Elementary Students and Teachers! Help Build a 1,000 piece Rubiks Cube Puzzle
Monday, October 19 from 3 to 7pm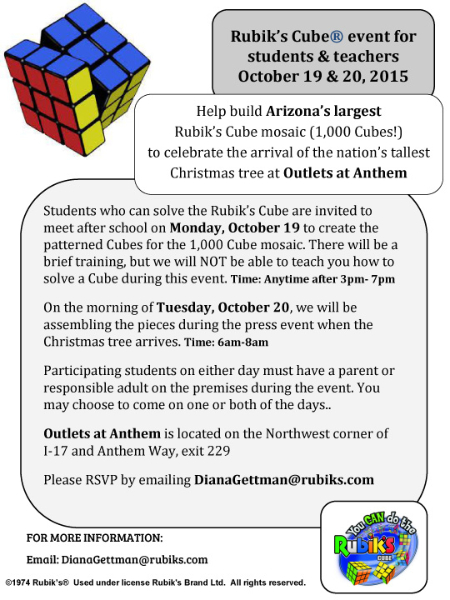 Thank you for your interest in helping build Arizona's LARGEST Rubik's Cube Mosaic (1,000 Cubes!).

Please have a parent fill out this online form to RSVP which days you will be attending: http://goo.gl/forms/wWyGlOQ3Jv
(Please fill out the form multiple times if you have more than one child attending.)

A parent or responsible adult must remain on the premises during the event. The student may walk around the mall, but cannot leave the property. The times are approximate- when we finish depends on how many kids come and for how long. The child does not have to stay the entire block of time- whatever they can do will be helpful!

We will be working in Suite 360 (an empty store space)- across from Dress Barn. There is covered parking in the back of the mall, or parking by the food court area is also convenient.
For more information contact: DianaGettman@rubiks.com
Think Pink Gift with Purchase
October 1 through October 19, 2015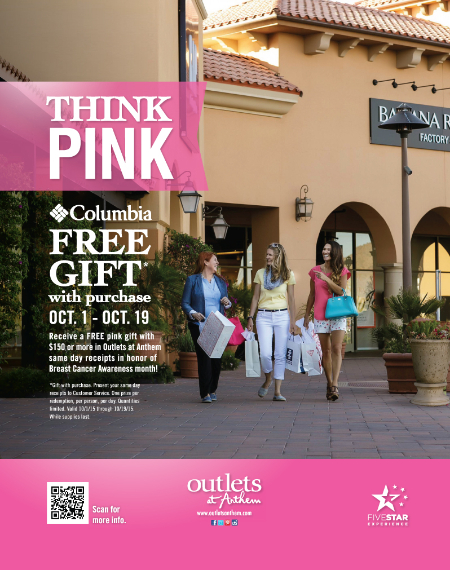 From October 1 through October 19, if you spend $150 in the same day, take your receipts to the Customer Service desk in the Cafes at Anthem food court and receive a FREE pink gift provided by Columbia in support of breast cancer awareness month.
Columbus Day Sidewalk Sale
Friday thru Monday
Join us on Friday, October 9-Monday, October 12 for a fall fashion sidewalk sale in honor of Columbus Day!
Delicious Dollar Deals
Food Court Eateries
Fresca's Mexican Grill
Two churros for $1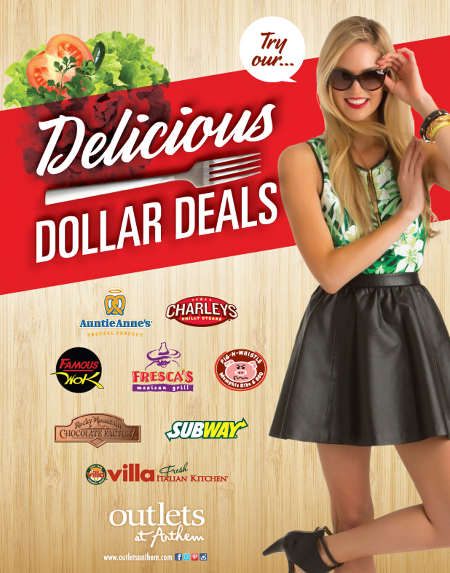 Visit our Food Pavilion and try these great dollar deals!
Famous Wok
Two veggie spring rolls or
a bowl of egg drop soup with fried noodles for $1
Pig-n-Whistle BBQ
One scoop of ice cream for $1
Charley's Philly Steaks
Upgrade any regular sandwich to a large for $1
Villa Pizza
1 Garlic roll or 1 Cookie or 1 Wing for $1
Subway
3 Cookies for $1
Auntie Anne's Pretzels
Dipping sauces for .69
Rocky Mountain Chocolate Factory
Caramel sticks for .79
Tallest Christmas Tree in the Nation Arrives!
October 20, 2015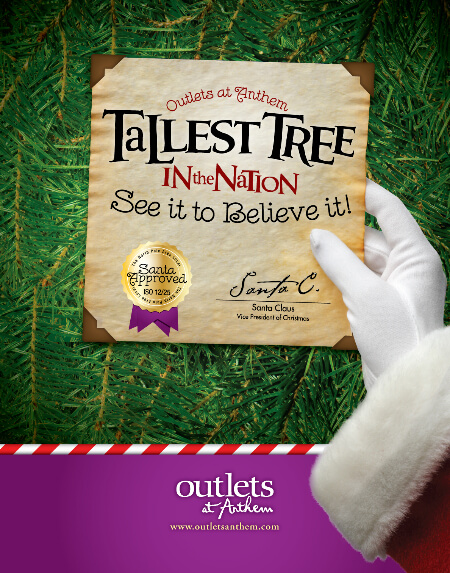 Outlets at Anthem's Christmas Tree will arrive on Tuesday, October 20th. Come early and watch the tallest fresh cut Christmas tree arrive in style! A firetruck will usher in the tree and its height will be certified by the big guy himself! Santa! We will have kids creating the largest Rubik Cube mosaic in the state, a selfie station, Salvation Army will be on site with a craft and letters to Santa.
The annual tree lighting event is November 13 & 14, 2015
Friday Family Fun Night
Friday, November 13 from 5pm to 8pm
At the foot of the Tallest Christmas Tree in the Nation, enjoy a FREE Family Fun Night. Free activities, songs, meet and greet and more. Details to come!
Tree Lighting Ceremony
Saturday, November 14 from 6pm to 8pm
SAVE THE DATE: Saturday, November 14, 2015 is when the Tallest Christmas Tree in the Nation will be lit. There will be FREE concerts and prize giveaways. Stay tuned for more details on who will be here!
Veteran's Day Sidewalk Sale
November 6th - 8th
Outlets at Anthem will be celebrating our brave Veteran's all weekend long! Get all your favorite fashions at great prices at the Veteran's Day Sidewalk Sale, November 6th - 8th. Don't forget to stop by Customer Service for a savings sheet and your FREE VIP savings card.
Halloween Trick or Treating
5pm-7pm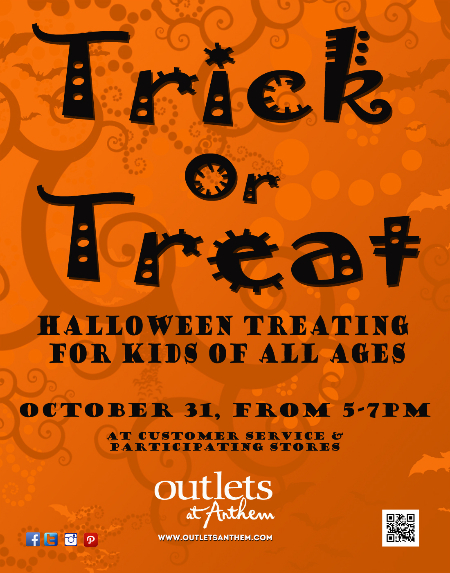 Bring the Kids for trick or treating 5-7pm! Start at Customer Service in the Food Court for a list of all participating stores, look for the pumpkin on the doors and get your spook on!
Kids Play
First Wednesday of every month!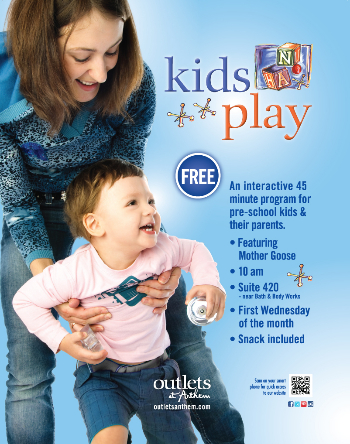 Kids Play is the first Wednesday of every month, 10am-11am, Suite 420.
Bring the kids to Outlets at Anthem for FREE interactive play hour with Mother Goose where we will tell stories and sing songs! There are prizes given out and a delicious snack. Parent participation is required.
Trackless Train Hours
Trackless Train Every Weekend
Our Trackless Train will be operating 12-6pm every Saturday and Sunday! Be sure to stop by Customer Service for your FREE VIP Savings card and any questions you may have.
Outlets at Anthem Gift Cards
Gift Cards anytime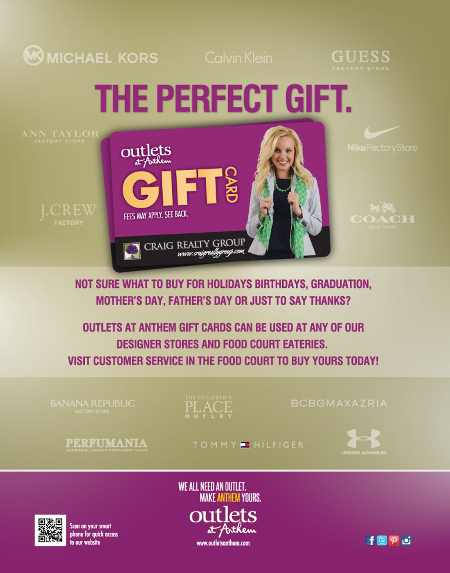 Take the guess work out of your gift shopping. Stop by Customer Service in the Food Court and pick up the gift that is just right for everyone! An Outlets at Anthem gift card! Get one in increments of 20 to 500 dollars and make someones day!
Senior Discount Days
Every Tuesday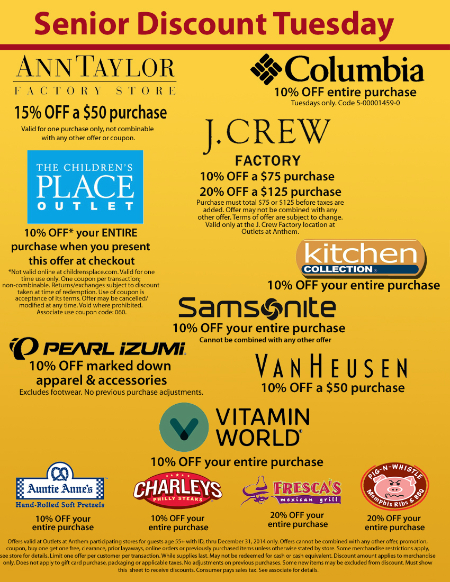 Senior Discount Tuesdays!
Seasonal visitors always welcome.
Visit Customer Service for discount details and ask about a FREE VIP savings card.