Shopping Extravaganza- Call to Charities!
Selection Closes June 15th, 2015
Shopping Extravaganza
Saturday, October 3, 2015
May 4, 2015
Dear Organization Representative:
Outlets at Anthem is inviting non-profit organizations in the Phoenix area to be a charity partner and raise thousands of dollars during this one day event. Outlets at Anthem's 11th Annual Shopping Extravaganza is scheduled for October 3, 2015 and is a philanthropic event where ticket holders receive exclusive discounts and offers, a special "shopper" lunch, wine tasting and are eligible to win over $30,000 in gift card prizes in four hours. There will also be many retailer demonstrations and silent auction opportunity throughout the day. Only ticket holders will be able to participate in this exciting event.
How can your organization benefit from this great day? For every $20 ticket that you sell, $15 will go back to your organization! There is no cost to be selected as one of the charity partners. Outlets at Anthem will provide all promotional materials to our charity partners to help with ticket sales. We ask that each partner sell at least 100 tickets each to the event. Remember the more tickets you sell the more money your charity earns!
Last year, over $50,000 was raised for organizations

who participated in this event!
All organizations are welcome to submit an application to become a charity partner including Arts/Cultural, Institutions, Community Service, Education, Environmental, Animal and Health organizations. To be considered, you must be a 501c3 designated group. Approximately twenty charities will be selected.
In order to participate in this easy and profitable fundraising opportunity, please complete the form (which you can find HERE) and email to LPugh@outletsanthem.com or fax to 623-465-9516 or mail to:
Outlets at Anthem
Management Office
Attn: Lena Pugh
4250 West Anthem Way
Phoenix, AZ 85086
All applications must be received by June 15th.
If you have any questions about the program and how to participate, please contact me at
623-465-9502 or e-mail me at LPugh@outletsanthem.com . We look forward to working together.
Sincerely,
Lena Pugh
Special Events Coordinator
Delicious Dollar Deals
Food Court Eateries
Fresca's Mexican Grill
Two churros for $1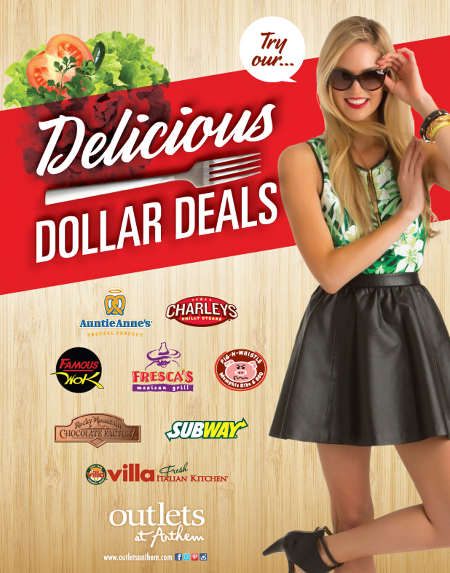 Visit our Food Pavilion and try these great dollar deals!
Famous Wok
Two veggie spring rolls or
a bowl of egg drop soup with fried noodles for $1
Pig-n-Whistle BBQ
One scoop of ice cream for $1
Charley's Philly Steaks
Upgrade any regular sandwich to a large for $1
Villa Pizza
1 Garlic roll or 1 Cookie or 1 Wing for $1
Subway
3 Cookies for $1
Auntie Anne's Pretzels
Dipping sauces for .69
Rocky Mountain Chocolate Factory
Caramel sticks for .79
Kids Play
First Wednesday of Every Month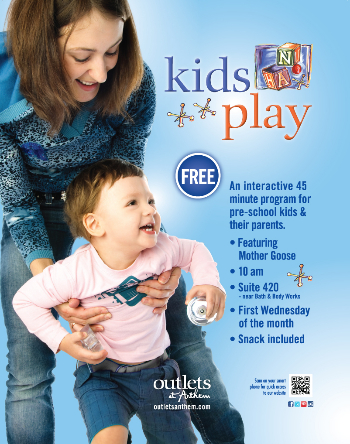 Kids Play is the first Wednesday of every month! 10am-11am, Suite 420.
Bring the kids to Outlets at Anthem for FREE interactive play hour with Mother Goose where we will tell stories and sing songs! There are prizes given out and a delicious snack. Parent participation is required.
Follow us on Pinterest!
Follow us on Pinterest!

We're excited to provide frequent updates on the hottest fashion trends, fun on-site activities, cute pictures and fun ideas to try on our Pinterest boards. Stay in the loop by following us at http://www.pinterest.com/OutletsatAnthem/
You can share your thoughts, pictures and ideas of the mall events and sales and stay connected!
Like us on Facebook
Like us on Facebook!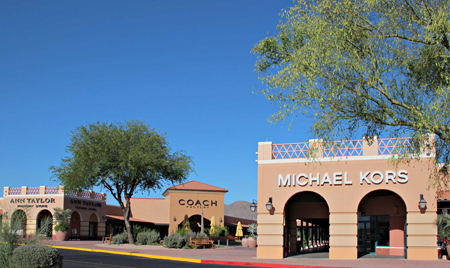 We're excited to provide frequent updates on the hottest fashion trends, store offers and fun events on property on our Facebook page. Stay in the loop by "liking" us at https://www.facebook.com/outletsatanthem and be in the know on all these great savings opportunities as soon as they are announced!
You can share your thoughts, pictures and ideas of the mall events and sales and stay connected!
Outlets at Anthem Gift Cards
Gift Cards anytime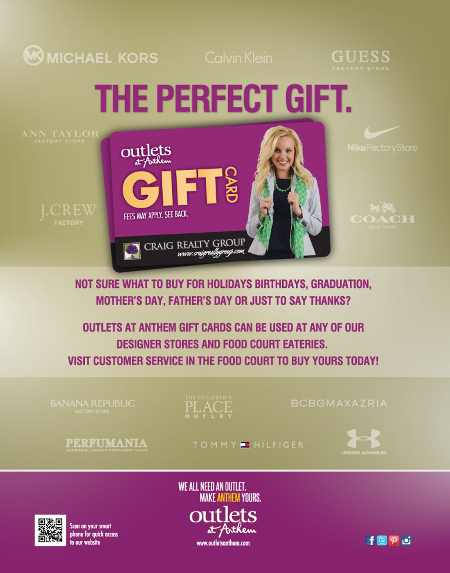 Take the guess work out of your gift shopping. Stop by Customer Service in the Food Court and pick up the gift that is just right for everyone! An Outlets at Anthem gift card! Get one in increments of 20 to 500 dollars and make someones day!
Trackless Train Hours
Trackless Train Every Weekend
Our Trackless Train will be operating 12-6pm every Saturday and Sunday! Be sure to stop by Customer Service for your FREE VIP Savings card and any questions you may have.
Senior Discount Days
Every Tuesday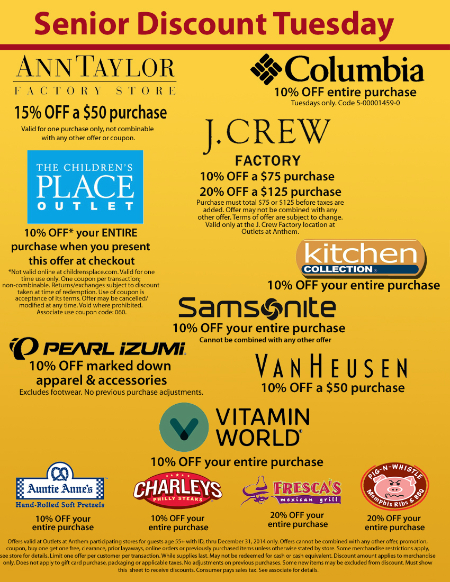 Senior Discount Tuesdays!
Seasonal visitors always welcome.
Visit Customer Service for discount details and ask about a FREE VIP savings card.